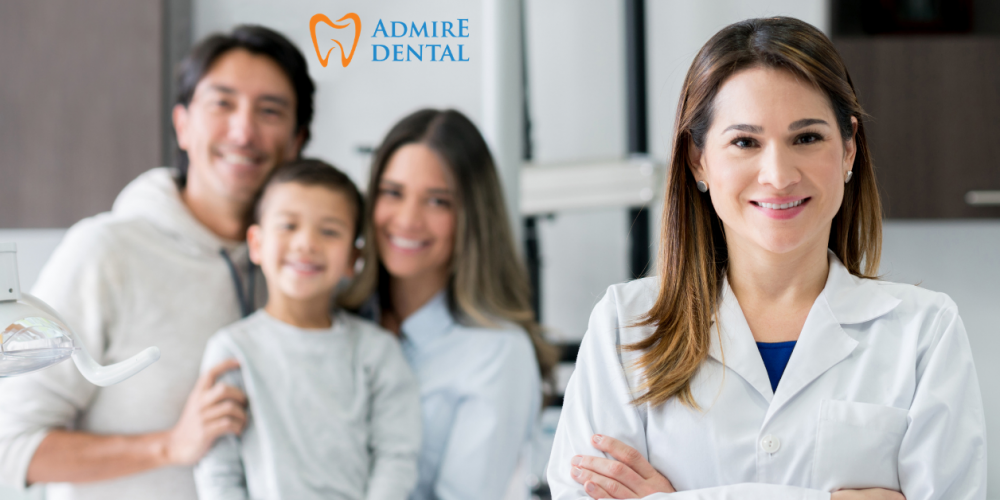 After almost a year of mask-wearing and as life returns to normalcy, we hope you'll see yourself smiling much more often. So, what better way to care for your own personal hygiene than getting the dental care you deserve at Admire Dental in Southgate, MI?
Here at Admire Dental, we treat our patients with the utmost care and quality. With a family-friendly atmosphere, we value everything that goes into the dental care experience, from the moment you walk through the door to the time you complete your appointment.
The well-being of the patient is critical to the way we conduct our operations, and our staff will help with any of your dental questions or concerns. Our practices range from regular dental exams to cosmetic dentistry and more advanced services like preventive and restorative treatment.
At our family dentist office in Southgate, one of the most common dental services we handle is cosmetic dental procedures. While teeth whitening is one of the more well-known services, dental implants are rising in popularity. With this comes the best in cutting-edge dental technology that the region has to offer.
With a wide variety of teeth whitening products from the likes of KoR, Opalescence, LumiBright, Pola, and Zoom — Admire Dental's treatment is the best around. Our professional teeth whitening treatments are completely safe, and the results are practically instant. Just one quick and easy treatment is all that it takes for you to experience whiter, brighter teeth. Patients who receive our teeth whitening services are thrilled with their shining smiles that appear entirely natural.
On top of the everyday brushing and flossing instructions that are a part of a typical teeth cleaning, Admire Dental's equipment can detect and diagnose specific types of oral health issues. From tooth decay to gingivitis, our staff utilizes their tools to get you the best treatment around.
Our professionals are also trained to detect any kind of long term health oddities that may be of risk to your or your loved one. Gum disease, bone loss, and oral cancer are all detectable at our facilities, and our staff will be sure to provide the best preventative care available. Whether coming in for a cleaning or hybrid dentures, this family dentist office in Southgate places the utmost importance on patient safety.
At our family dentist office in Southgate, your dental health is just as important as your regular health care. Our staff of professional dental hygienists and dental surgeons work with you to decide the best treatment plan best suited to your needs and payment options.
So take the first step towards your perfect smile and get in touch with Admire Dental, your number one family dentist office in Southgate. You can call us at 734-441-0200, schedule an appointment request through our website, or visit our dental office at 13219 Eureka Rd., Southgate, MI. With the best of the best in dental service, our staff is sure to give you the perfect smile you deserve. We hope to see you soon.