"My experience at Admire Dental was great ! I had some fillings and a cleaning. My teeth haven't been this white in in awhile as for my feelings there were painless. My dentist and the dental assistant were soo kind and very professional. Overall had a Great experience and I'm happy I choose them."

- Tiffany
About Admire Dental Southgate
Welcome to our office! We have a number of locations, a team of experts, and the dental services your family needs to achieve and maintain their healthiest smiles, and best of all, we make dentistry fun for patients of all ages. Our goal is to provide state-of-the-art, comprehensive dentistry services in an atmosphere free from stress and discomfort.
If you would like to find out more about our office locations, dental services, or you're ready to schedule an appointment.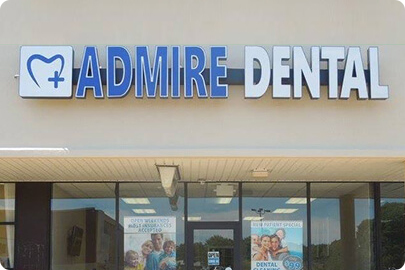 Convenient Hours
Many dental offices are only open a few days a week and at inconvenient times. Patients find themselves turning their daily schedules upside down to accommodate their dental appointment. At Admire dental, we think your dental care should fit into your schedule – not the other way around. That's why we're happy to offer extended office hours, until 7pm, and we even treat patients on Saturdays. Our goal is to make every appointment quick, convenient, and comfortable.
Dental Emergencies Welcome
Dental emergencies don't need to be stressful or detrimental to oral health. Simply contact our team, and we'll do our utmost to see you right away. If you happen to experience an emergency outside our extended office hours, call our regular number and follow the after hours instructions to reach one of our dedicated team members. In most situations, we're able to provide same day appointments, and no matter what, we answer questions and help patients feel calmer and more comfortable over the phone.
Most Insurance Accepted
We know our patients invest in their dental insurance, and we want to help them maximize these benefits. We're always happy to process and file claims to help patients make the most of their insurance coverage. Even if we're not in-network with your insurance provider, our knowledgeable team will take the time to make sure patients fully understand their coverage and out of pocket expenses.
Learn more about our payment methods and insurance information.
Relaxing Atmosphere
Our goal is always to ensure patients feel comfortable, free from stress, and right at home from the moment they arrive in our office. We do our utmost to provide friendly, attentive care, and go above and beyond to offer treatment that is painless. Let one of our team members know if there is anything we can do to make your time in our office more comfortable. Admire Dental welcomes families and that means we offer kid-friendly services as well.
We Fit Your Schedule
If you're already juggling a busy schedule, fitting multiple trips to two or more dental practices into that timeline may be difficult. That's why we strive to provide comprehensive treatment options for patients of all ages and stages of dental development in our offices. We take the time to help patients pinpoint the right treatment for their unique needs, and our team of dental experts offers a wide variety of treatment options all in one comfortable, familiar practice. See our office hours here.
Community Involvement
At Admire Dental, our dentist and team are committed to supporting the health and happiness of residents of our communities both in and out of the office. We are active participants in local community health fairs, and offer educational resources on oral hygiene for senior centers and schools. In addition to volunteering in community health events and education, we support and fund community centers, charitable organizations, and schools. Don't hesitate to ask the Admire Dental team about assisting with your next community event.